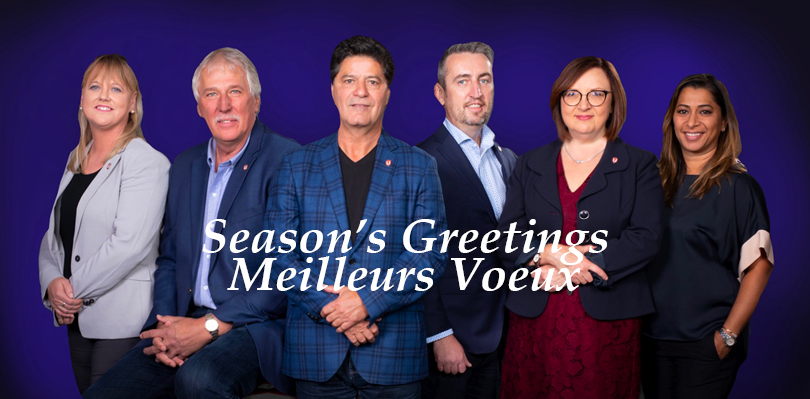 Greetings Unifor Family:
This has been a year of profound and historic challenges, but also inspiring solidarity. We started 2020 on a freezing cold picket line facing an impossible employer intent on busting our union in Regina. Some 20 Unifor activists, including two of us, were arrested defending Local 594 members at the Co-op Refinery, before the lockout eventually ended in June.
In March, we all faced an even more powerful foe: COVID-19. The pandemic took hold of our lives, infected our loved ones, killed workers on the job, and sent our economy into a tailspin. So many of you risked your lives as essential workers, and went to work every day and continue to do so.
Facing a new normal, our union adapted to continue to defend our members in new and different ways.  Keeping our members and staff safe was and is our top priority. We launched our COVID Task Force, held daily conference calls, and strategically planned our campaigns to fight to protect Unifor members. We stayed connected through zoom meetings, a virtual Summer Summit, online rallies and digital news conferences to continue the work of our union in these unprecedented times. Local unions and leaders also stepped up. Members on the frontline, our COVID heroes, shared personal and powerful video messages to inform and inspire us. It was the toughest of times and across our union, leaders and activists, including our network of health and safety advocates, rose to the occasion.
The pandemic exposed deep flaws in our economy and in our public institutions. It was a loud wake up call, prompting government action on a range of issues such as income security and Employment Insurance, a system so badly flawed it had to be shelved to make way for CERB. We lead and won the fight for PPE for all health care workers and we continue to put the safety of our members first. In our long-term care sector, which tragically accounted for thousands of COVID-19 deaths, we've pushed the government hard and finally have a commitment to a four hour minimum standard of care in Ontario.
We made the federal government listen to us and work with our union to introduce programs to support workers. Our demand for an expanded wage subsidy program lead to CEWS, at 75%, instead of the original proposed 10%.
We were directly engaged with cabinet ministers to develop an expanded temporary EI program and various post-CERB recovery benefits. We have our fingerprints all over these historic EI changes. We pushed hard for premium pay subsidies for front-line workers, including those in retail, health and long-term care. While governments did not listen to everything we said, we are not backing down as the second wave hits our members and their workplaces.
In June, we released our Road Map for economic recovery. Our 
Build Back Better plan
 put us ahead of the pack, demanding universal childcare, stronger labour standards, industrial strategies for auto, aerospace and other sectors. We heard some of our own terminology repeated in the federal government's Throne Speech this fall, proving we are making an impact. However, there is much work ahead. We remain concerned with how Conservative premiers are tackling the crisis in provinces such as Alberta, Saskatchewan and Manitoba. We are fighting for recovery plans for many sectors of the economy including aerospace, aviation, hospitality, rail, retail, and other sectors more severely impacted by the pandemic.
We have also seen some major wins for our union this year. An historic round of auto bargaining positions our members at the front of Electric Vehicle manufacturing and returns truck assembly in Oshawa. We secured nearly $5 billion dollars in investment from the Detroit three automakers and the federal and Ontario governments to stabilize our plants and create thousands of new jobs.
We defended racial justice and put it as a priority at the bargaining table. And we fought for essential workers against the greed of some of Canada's wealthiest corporations.
Because we know this year has been tougher still on our community friends, we decided to double our annual contributions to food banks and women's shelters. Local unions across the country have also gone above and beyond their normal solidarity efforts and we thank you for your incredible social and community unionism.
We want to wish everyone – local leaders, activists, members and our excellent staff – a safe holiday season and hope you will get to enjoy some down time with loved ones while staying vigilant to prevent the spread of this deadly virus. As we monitor vaccine plans closely, we can't promise you 2021 will be any easier, but we can tell you that no matter what we face, we will do so together, as a family of workers fighting together for justice for everyone.
Solidarity friends. Stay Safe. Happy Holidays!

---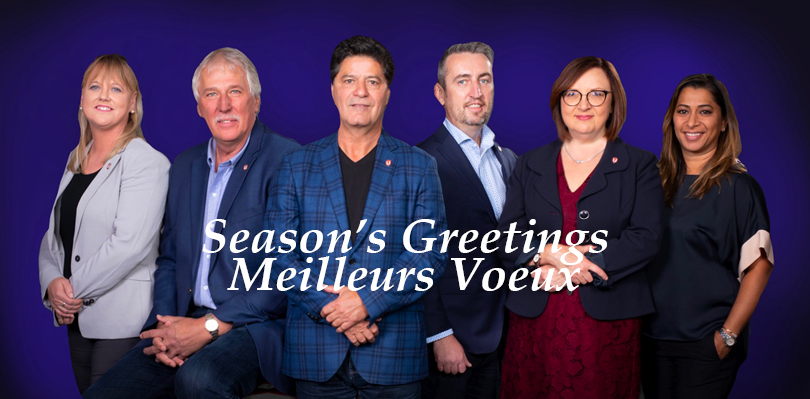 Chers membres de la famille d'Unifor,
Des défis profonds et historiques ont marqué l'année qui vient de s'écouler, mais ils ont aussi inspiré une grande solidarité. Nous avons commencé l'année 2020 sur un piquet de grève glacial, devant un employeur intraitable qui avait l'intention de démanteler notre syndicat à Regina. Une vingtaine de militantes et militants d'Unifor, dont deux d'entre nous, ont été arrêtés alors qu'ils défendaient les membres de la section locale 594 à la raffinerie Co-op, avant que le lock-out ne prenne fin en juin.
En mars, nous avons tous été confrontés à un ennemi encore plus puissant : la COVID-19. La pandémie s'est emparée de nos vies, a infecté nos proches, a tué des travailleuses et travailleurs au travail et a fait basculer notre économie. Vous avez été si nombreux à risquer votre vie en tant que travailleuses et travailleurs essentiels, à vous rendre au travail tous les jours et à continuer de le faire.
Face à une nouvelle normalité, notre syndicat s'est adapté pour continuer à défendre nos membres de manière nouvelle et différente. Assurer la sécurité de nos membres et de notre personnel était et reste notre priorité absolue. Nous avons lancé notre Groupe de travail sur la COVID-19, organisé des conférences téléphoniques quotidiennes et planifié stratégiquement nos campagnes de lutte pour protéger les membres d'Unifor. Nous sommes restés connectés grâce à des réunions sur Zoom, nous avons tenu un Sommet d'été virtuel, des rassemblements en ligne et des conférences de presse numériques pour poursuivre le travail de notre syndicat en ces temps sans précédent. Les sections locales et les dirigeantes et dirigeants se sont également mobilisés. Les membres de première ligne, nos héroïnes et héros de la COVID-19, ont partagé des messages vidéo personnels et percutants pour nous informer et nous inspirer. C'était la période la plus difficile et, dans tout notre syndicat, les dirigeantes et dirigeants, les militantes et militants, y compris notre réseau de déléguées et délégués en santé et sécurité, se sont montrés à la hauteur de la situation.
La pandémie a révélé de profondes failles dans notre économie et dans nos institutions publiques. Ce fut un réveil brutal, qui a incité le gouvernement à agir sur toute une série de questions telles que la sécurité du revenu et l'assurance-emploi, un système si gravement défaillant qu'il a dû être mis en veilleuse pour faire place à la PCU. Nous avons mené et gagné la lutte pour les EPI pour tous les travailleurs et travailleuses de la santé, et nous continuons à faire passer la sécurité de nos membres en premier. Dans notre secteur des soins de longue durée, qui a tragiquement été à l'origine de milliers de décès en raison de la COVID-19, nous avons fait pression sur le gouvernement et nous avons finalement obtenu un engagement à respecter une norme minimale de quatre heures de soins en Ontario.
Nous avons réussi à ce que le gouvernement fédéral nous écoute et travaille avec notre syndicat pour mettre en place des programmes de soutien aux travailleuses et travailleurs. Notre demande d'un programme élargi de subventions salariales a abouti à la création de la SSUC, à 75 % des salaires, au lieu des 10 % proposés à l'origine.
Nous avons travaillé directement avec les ministres du cabinet pour développer un programme temporaire élargi d'assurance-emploi et diverses prestations de relance après la PCU. Nous avons nos empreintes partout dans ces changements historiques de l'AE. Nous avons fait pression pour que les travailleuses et travailleurs de première ligne, y compris ceux du commerce de détail, de la santé et des soins de longue durée, bénéficient d'une prime de pandémie. Les gouvernements n'ont pas écouté tout ce que nous avons dit, mais nous ne reculons pas devant la deuxième vague qui frappe nos membres et leurs lieux de travail.
En juin, nous avons publié notre feuille de route pour la relance économique. Notre plan « 
Rebâtir en mieux
 » nous a placés en tête du peloton, exigeant des services universels de garde d'enfants, des normes de travail plus strictes, des stratégies industrielles pour l'automobile, l'aérospatiale et d'autres secteurs. Nous avons entendu certains de nos propres termes repris dans le discours du Trône du gouvernement fédéral cet automne, ce qui prouve que nous avons un impact. Cependant, il reste encore beaucoup de travail à faire. Nous sommes toujours préoccupés par la façon dont les premiers ministres conservateurs s'attaquent à la crise dans des provinces comme l'Alberta, la Saskatchewan et le Manitoba. Nous nous battons pour des plans de relance dans de nombreux secteurs de l'économie, notamment l'aérospatiale, l'aviation, l'hôtellerie, les chemins de fer, le commerce de détail et d'autres secteurs plus gravement touchés par la pandémie.
Notre syndicat a également remporté des victoires importantes cette année. Une ronde de négociations historique dans le secteur automobile place nos membres à l'avant-garde de la fabrication de véhicules électriques et à la reprise de l'assemblage de camions à Oshawa. Nous avons obtenu un investissement de près de 5 milliards de dollars de la part des trois constructeurs automobiles de Detroit et des gouvernements fédéral et ontarien pour stabiliser nos usines et créer des milliers de nouveaux emplois.
Nous avons défendu la justice raciale et l'avons placée en priorité à la table des négociations. Et nous nous sommes battus pour les travailleuses et travailleurs essentiels contre la cupidité de certaines des plus riches entreprises du Canada.
Parce que nous savons que cette année a été encore plus dure pour nos amis de la communauté, nous avons décidé de doubler nos contributions annuelles aux banques alimentaires et aux refuges pour femmes. Les sections locales de tout le pays sont également allées au-delà de leurs efforts de solidarité habituels et nous vous remercions pour votre incroyable syndicalisme social et communautaire.
Nous souhaitons à tous – nos dirigeantes et dirigeants des sections locales, nos militantes et militants, nos membres et nos excellents représentants et représentantes – de bonnes Fêtes de fin d'année et espérons que vous pourrez profiter de moments de détente avec vos proches tout en restant vigilants pour éviter la propagation de ce virus mortel. Alors que nous surveillons de près les plans de vaccination, nous ne pouvons pas vous promettre que 2021 sera plus facile, mais nous pouvons vous dire que, quoi que nous ayons à faire, nous le ferons ensemble, en tant que famille de travailleuses et travailleurs luttant ensemble pour la justice pour tout le monde.
Solidarité à toutes et à tous. Soyez en sécurité. Joyeuses fêtes!

---
---
---
A message from Jerry Dias
Hello all,
If you were unable to attend this year's convention in Quebec City, please take a few minutes to watch this video of the highlights. Our convention theme was Whatever It Takes because our union will do whatever it takes to defend our members and fight for worker's rights.
Please like and share this on Facebook.
Thank you,
Jerry Dias
National President
---
Click on the image to view full PDF
---
Making work fairer for all Ontarians
Years of organizing, mobilizing, lobbying, rallying and working with community partners has culminated with the introduction of sweeping new changes to the laws governing work in Ontario.
On June 1, the Ontario government introduced the 'Fair Workplaces, Better Jobs Act' (Bill 148) in response to the realities of increasingly more precarious work and the public call for stronger rules that protect workers and a higher minimum wage.
The new changes will help raise the floor for all workers, particularly those who are most overrepresented in precarious work such as women, young workers, workers of colour, workers with disabilities and those from newcomer communities.
Unifor has been at the forefront of pushing for major legislative changes to address the nature of work today, through the government's Changing Workplaces Review.
The more than two year Changing Workplaces Review examined both the Employment Standards and Labour Relations Acts with the stated goal of tackling the growth of precarious, insecure work. Its final report was issued on May 23, 2017, containing 173 recommendations for the government to consider.
---
Unifor National President to visit site of striking Mexican miner murders
November 20, 2017
Mexico City – Unifor National President Jerry Dias will visit the site where two striking Mexican miners were brutally murdered near the Media Luna mine in Guerrero State, Mexico.
"I am saddened and angered that these workers were murdered for standing up for their right to join the union of their choice," said Dias. "Unifor joins Los Mineros in the call for justice and the demand that those responsible for the murder of the Peña brothers be held accountable."
Brothers Víctor and Marcelino Sahuanitla Peña were killed on November 18, 2017 when striking miners were attacked by an armed group believed to be affiliated with the corrupt Confederación de Trabajadores de México (CTM) union.
WHAT: Unifor President to visit site of striking Mexican miner murders
WHERE: Media Luna Mine, Nebulosa 3019, Centro, 40580 Cocula, Guerrero State, Mexico
WHEN: Tuesday November 21, 2017 at approximately 1:00 p.m. Central Time
WHO: Unifor National President Jerry Dias with members of the Los Mineros union.
Approximately 600 workers at the mine, owned by Canada's Torex Gold Resources, went on strike after they were prevented from leaving the CTM to join Los Mineros (the National Union of Mine, Metal, Steel and Allied Workers of the Mexican Republic).
This terrible act of violence occurred as the Mexican government continued to reject labour reform at NAFTA talks just a few hours away in Mexico City.
"I challenge Mexican President Enrique Peña Nieto to show courage and to do the right thing by accepting the proposed NAFTA labour reforms to guarantee the right to free association and free collective bargaining," said Dias.
Unifor is Canada's largest union in the private sector, representing 315,000 workers in every major area of the economy. The union advocates for all working people and their rights, fights for equality and social justice in Canada and abroad, and strives to create progressive change for a better future.
For more information or to arrange an interview with Jerry Dias please contact Unifor Communications Representative Kathleen O'Keefe at kathleen.okeefe@unifor.org or 416-896-3303 (cell) or Assistant to the National President Scott Doherty at 416-407-4301.
---
Update from National President, Jerry Dias – Fair Trade/NAFTA
Greetings!
To date Unifor's work on the trade file has been outstanding. The efforts of activists, elected leaders and our staff to point out the flaws with NAFTA, and its failure to help Mexican workers have helped to push an agenda for a better NAFTA.
I have heard from workers and union leaders in the U.S. and the Mexico about how our lobbying efforts have brought key issues to the forefront. With the NAFTA renegotiations entering the final stages this weekend as the second Mexico round gets underway, I am here to continue to take our message forward.
This current round of talks in Mexico is an important moment for the Canadian government to start defining what is meant by progressive trade and how a trade deal – NAFTA or otherwise – would address inequities and help to build a more equitable society for all workers here in Canada, the U.S. and in Mexico.
This isn't just my view but it is the opinion of a majority of Canadians.
Our union collaborated with Environics to conduct a poll with Canadians on their attitudes towards trade and the results are telling and send a clear message about what our government must do.
The poll reveals that the vast majority feel the federal government needs to secure progressive improvements to labour, environmental and other social issues in NAFTA or be prepared to walk away from a bad trade deal.
While 90 per cent of those surveyed are supportive of trade agreements in principle, eight in ten say Canada should walk away from NAFTA if the Americans reject all demands addressing labour, environmental and social issues.
And I couldn't agree more!
Other key findings of the poll on attitudes toward NAFTA and progressive trade issues include:
• 75 per cent believe the U.S. and major Canadian corporations have benefited from NAFTA while only 29 per cent believe they have personally benefited;
• Nine in ten Canadians support the government's push for NAFTA changes to better serve society's interests, including higher labour and environmental standards; and
• Eight in ten Canadians would feel disappointed if the government signs a new NAFTA deal that does not include improved labour, environmental and social provisions.
You can download the full survey results at unifor.org/NAFTA. Be sure to share this important poll with others including your own MP.
To stay informed and up to date on daily events please follow me on social media,Facebook.com/JerryPDias or on Twitter at@JerryPDias.
Let's keep up the fight for fair trade, I know that we can continue to make a difference!
<
---
Members and Youth Enjoy Unifor Day with the Argos
On Saturday night, as the Toronto Argonauts took on the Montreal Alouettes, the stands in Toronto were filled with union members and youth from across the city, sponsored to attend by Unifor.
The Unifor Community Day with the Argonauts was a celebration of family, solidarity, and sport.
---
Random drug and alcohol testing ruling violates worker's rights
Fort McMurray – Unifor says an Alberta Court of Appeal decision upholding random drug and alcohol testing of the union's members at Suncor oil sands operations in Alberta is a gross violation of worker's rights.
"This ruling supports an invasive and degrading policy that violates the fundamental rights of workers," said Unifor National President Jerry Dias. "Safety is always our first priority but we know that random drug testing does not reduce accidents or improve safety."
---
Canada's largest union Unifor donates $500K to Hurricane Irma aid
Unifor, through the Union's Social Justice Fund, has donated $500,000 to the Canadian Red Cross for Hurricane Irma aid in the Caribbean.
"This donation by Unifor will reach the most vulnerable people in the Caribbean to help provide desperately needed relief efforts and supplies, which may include items such as shelter, food, and clean water," said Unifor National President Jerry Dias, in a press release.
Unifor's donation will provide direct assistance and emergency relief where it is needed most, in the hardest hit Caribbean countries.
"The Canadian Red Cross wants to thank Unifor for their support towards relief efforts in the wake of Hurricane Irma," said Conrad Sauvé, President and CEO of the Canadian Red Cross, in a press release.
"This generous donation will help assist many families who are in need following this devastating category five hurricane."
In addition to the Social Justice Fund donation the Canadian Red Cross has also set up a portal for individual Unifor members to donate directly at www.redcross.ca/HurricaneIrma/Unifor. Unifor is also challenging other unions to donate to help the Canadian Red Cross in this humanitarian effort.
"In this great time of need we will work together once again to make a difference for the people impacted by Hurricane Irma," said Unifor Director of Human Rights and International Mohamad Alsadi, in a press release.
The Unifor Social Justice Fund is a registered charity, maintained by contributions from Unifor employers negotiated during collective bargaining, for more information visit unifor.org/sjf
Unifor is Canada's largest union in the private sector, representing more than 310,000 workers in every major area of the economy.
---
NAFTA Took Good Canadian Jobs and Made Them Bad Ones in Mexico
Dear Brothers and Sisters,
By now you have been hearing about NAFTA and the renegotiating of that trade deal. Our National President, Jerry Dias, is at these negotiations.
He has been asked by the Canadian Government to be there to give a voice to the Labour movement and what we, as workers, need from this deal.
I have attached a letter below from Jerry that I feel you should read, just to give you a little more back ground about what your National Leadership is doing for you.
NAFTA Took Good Canadian Jobs And Made Them Bad Ones In Mexico
The deal was written to help corporations, not the working people that produce the products.
08/30/2017
HuffPost Canada
Jerry Dias, National President, Unifor
After a first round of negotiations for a renewed North American Free Trade Agreement two weeks ago in Washington, where all sides mostly outlined their opening positions, talks move this weekend to the place where much of the problem with the deal lies: Mexico.
When NAFTA was signed nearly 23 years ago, we were told the deal would lift up Mexican workers with new factories providing good jobs, fight poverty and build strong communities.
Well, it hasn't happened.
The sad truth is that poverty has not gone down in the years since. Also, the average automaker in Mexico made just $3.95 (US) an hour in 2007, with many making much less. They cannot afford to buy the cars they make, let alone provide a decent standard of living for their families.
The deal was written to help corporations, not the working people that produce the products.
The reason NAFTA has not had the impact that was promised is simple. The deal was written to help corporations, not the working people that produce the products. It was written to bolster investors, not communities. Its primary purpose was always to encourage commerce, not to fight poverty.
In the neoliberal thinking of the day, helping corporations, bolstering investors and encouraging commerce were assumed to help create good jobs for working people.
Trickle down, someone called it. And it never happened, just as the labour movement and progressive groups in all three NAFTA countries predicted.
I have never hated to be so right before.
Ginnette Riquelme / Reuters Farmers from different states, holding a banner, take part in a march against the North American Free Trade Agreement (NAFTA) talks in front of the Angel of Independence Monument in Mexico City, Mexico July 26, 2017. The banner reads "Mexico is better without NAFTA."
As poverty and wages have remained stagnant and purchasing power has declined,human rights abuses have mounted, as documented by the U.S. State Department's Human Rights Report, which concluded in 2014 that the Mexican government did not consistently protect workers' rights. In 2015, Human Rights Watch found that, "The dominance of pro-management unions continues to obstruct legitimate labour organizing activity."
It is of little surprise, then, that there has been a steady flow of auto plants to Mexico for many years now. In just the last five years, nine of 11 new auto factories announced in North America were in Mexico. And while 3.6 million vehicles were built in Mexico in 2016, only 1.6 million were sold there.
Mexico's 900,000 auto manufacturing jobs represent 45 per cent of the entire North American industry, compared with 125,000 jobs in Canada, or six per cent. Since 1993, employment in Canada at the Detroit Three has dropped by more than half, from 52,000 in 1993 to just 23,000 last year. Along the way, our automotive trade deficit with Mexico tripled from 2008 to reach $12 billion.
We need to be clear about one thing: none of this imbalance or pain to Canadian workers is the fault of workers in Mexico.
Faced with grinding poverty, few opportunities and a border that is increasingly becoming shut, no one can blame a young mother or father for taking whatever work they can, however poorly paying or exploitative it might be.
We need to be clear about one thing: none of this imbalance or pain to Canadian workers is the fault of workers in Mexico.
At the end of the day, workers need to put food on the table and provide for their families. Critics of NAFTA understand that, and we are fully aware of who is to blame here.
It's the corporations that exploit the desperation of such workers, taking good jobs in Canada and the United States, and making them bad jobs in Mexico. It's the investors who, through their favouring of stocks in companies who do this sort of despicable thing, encourage such behaviour.
And it's the negotiators of such trade deals — and NAFTA isn't alone in this — that pave the way for corporations to play off workers in different countries against another in a race to the bottom.
We won't stop corporations from chasing lower costs, nor investors from chasing rising stock prices.
But we can stop negotiating deals that make it all too easy to drive down wages and working conditions in the name of free trade. As the talks open this weekend in Mexico, that is the message we need negotiators to hear.
In Solidarity,
Mark Mathewson
President
Unifor, local 848
Shell, Sarnia, Ontario
(519)466-1987
---
Trudeau Teams Up With Canadian Labor in Push for Nafta Reforms

In Mexico City's Nafta talks last week, few Canadians had a higher profile than Jerry Dias.
He spoke to a labor rally and a conference. He met at length with Canada's chief negotiator, Steve Verheul, over red wine and bar nuts. He held court with reporters regularly.
Yet Dias is no government minister or aide. He's the head of Unifor, Canada's largest private-sector union, and hates the North American Free Trade Agreement, whose second round of negotiations concluded Sept. 5. And he's at the forefront of Prime Minister Justin Trudeau's renegotiation strategy — a reminder that, like Trump, Trudeau has his own economic interests and domestic politics to cater to. That means giving labor a prominent seat after Trump spurred new Nafta talks.